Neal Campbell is the Principal Tuba for the Dearborn Symphony and has been playing with us for ten years. He picked up the Tuba at age 13!
As a B&S Perantucci Tuba Artist, he also plays for the Gabrieli Brass Quintet and Detroit Symphony Orchestra, Motorcity Brass Quintet, Detroit Chamber Winds, Fischer Theatre Orchestra, Fox Theatre Orchestra, The River City Brass Band, Toledo Symphony Orchestra, Toledo Symphony Concert Band and Michigan Opera Theatre Orchestra.
Having been on the faculty at universities in Michigan and Ohio, The Blue Lakes Fine Arts Camp, and The University of Michigan All-State Program, Neal has been teaching this year from his home in Southfield, Michigan. He's also been supporting his kids with "virtual everything"!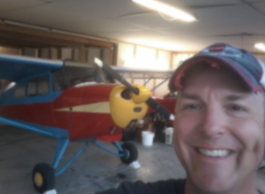 Neal is a certified flight instructor and commercial pilot.