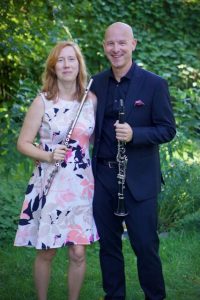 Kasey (Kassia) Martin, pictured above with husband and clarinetist Sam Martin, has been playing flute and piccolo with the Dearborn Symphony for 10 years! Sam is a dynamic clarinetist who plays throughout Southeast Michigan and frequently joins the Dearborn Symphony as a substitute.
Kasey started playing music at the age of 9 and now teaches private lessons virtually. For most of this year, her big project has been filing away about 10 years of music that has been "sitting in piles" around her house.
She loves camping, hiking, backpacking and generally being outdoors, and was disappointed when plans to go to California this summer and see the redwoods had to be cancelled.
She and her husband have been enjoying cooking with their wood smoker, and notes "pre-pandemic it would have been hard to find several hours to just sit around and monitor a smoker, especially to find a time when we were both free simultaneously."
Click to view Kassia Martin playing flute from a live performance November 18, 2018 at Christus Victor Lutheran Church, Dearborn, Michigan