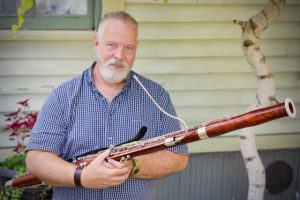 Principal Bassoonist, Jonathan Boyd, has been playing with the Dearborn Symphony for 20 years!
Jonathan began piano and percussion lessons in the third grade. In 8th grade, playing the timpani in the school band (situated behind the bassoons), he became obsessed with the woodwind instrument.
"There's no other explanation other than that the bassoon was calling me," he notes. He had to wait a whole year before he got to play, but was excused from gym class in the 9th grade to start studying the bassoon. By the end of that year, he was no longer a percussionist, and played bassoon exclusively.
He reveals that the pandemic has taught him the importance of music in his life, and how paramount it is for him to be making music with others. "I have become aware that my identity as a person is directly linked to being a music maker", he adds. This time has offered him a rare and great opportunity for personal musical evaluation–Boyd is recording his practice sessions to get an unvarnished look at ways he can continue to improve his performance.
He has also been collaborating with other bassoonists, making recordings that have been published online, and taking part in the L.O.V.E project, which assembled the world's largest online orchestra playing Mozart's Magic Flute Overture (see more below!)
Jonathan owns a 150-year-old house in Corktown and began his time at home just enjoying taking care of it, however, he admits, "the novelty of that has worn off." A collector of vintage/antique recipes/cookbooks, he spent months finding the perfect bread recipe, and came up with three or four stand-by, excellent recipes. He has been learning to draw, is trying to continue reading around 50 books a year, keeps up an obsession with classic movies between 1915 and 1950, and rides his 1969 India-made Kinetic moped around the city.
He loves gardening, particularly old roses, and collect antiques and flea-market "stuff". He reports being "a woefully bad, but eternally hopeful, golfer."