Date/Time
Date(s) - 10/09/2015
8:00 pm - 10:00 pm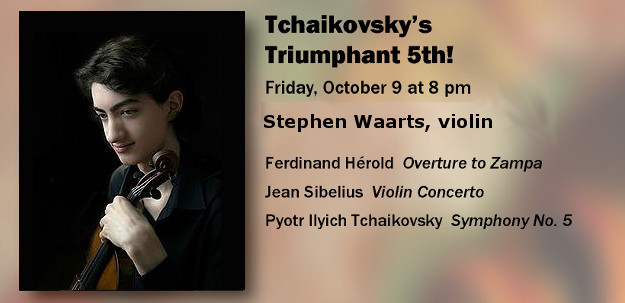 Concert Preview with Jim Walters at 7:00pm
Dearborn Symphony Opens 54th Season with Tchaikovsky's Triumphant 5th!
The Dearborn Symphony opens its 54th season on Friday, October 9 at 8 pm at Dearborn's Ford Community and Performing Arts Center. In a not to be missed program that includes a pair of powerhouse masterworks, Sibelius's Violin Concerto and Tchaikovsky's Fifth Symphony, both evocative and powerful pieces, your premier community orchestra will give you an unforgettable night.
Curtain raiser Ferdinand Herold's Overture to Zampa will transform the acoustically superb hall into a festival of melody and high spirit. You will be grooving in your seat to the warm sounds of brass fanfare and light and lively string harmony.  The quick pace will have you toe-tapping and leave you breathless.
The Dearborn Symphony is pleased to welcome nineteen year old American violinist Stephen Waarts in a performance of Sibelius' Violin Concerto.  
Location