Date/Time
Date(s) - 11/17/2017
8:00 pm - 10:00 pm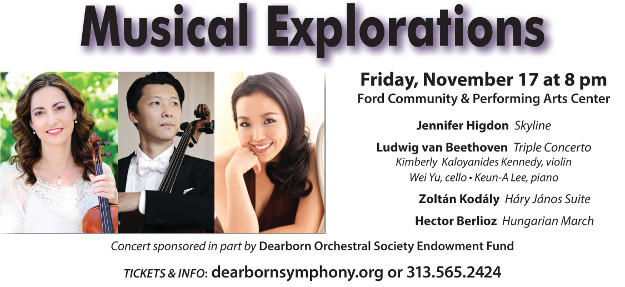 Higdon's lively "Skyline" with strong rhythmic propulsion, vigor and witty orchestral effects sets the program in motion. Beethoven's "Triple," with alluring interplay between the solo instruments and orchestra by three incredible artists — violinist Kim Kennedy and cellist Wei Yu from the Detroit Symphony and pianist Keun-A Lee perform this warm and beautiful showpiece.
The second half of the program is brimming with Hungarian melodies, spicy orchestral color, infectious rhythms, and a hint of Gypsy! Hear Alex Udvary in Háry János Suite perform a cimbalom, a dulcimer-like instrument.
Online Ticket Sales are closed. Tickets are available at the Box Office.
Location