click on a Concert or Event Title to get more information
04/11/2014 - 8:00 PM
Passion & Elegance!
Kypros Markou Music Director conducting
the award winning Dearborn Symphony Orchestra

Concert Preview with Jim Walters at 7:00pm
Program
Strauss  Die Fledermaus Overture
Mozart  Concerto for Flute in G – David Buck, flute
Brahms  Symphony No. 4

Dearborn's Ford Community & Performing Arts Center, Dearborn MI

05/02/2014 - 8:00 PM
Suites for the Sweet!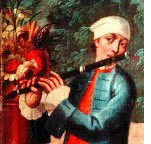 Kypros Markou Music Director conducting
the award winning Dearborn Symphony Orchestra

Concert Preview with Jim Walters at 7:00pm

This concert is made possible in part by The Exchange Club of Dearborn

for tickets call 313-565-2424
Program
Piston  Incredible Flutist Suite
Khachaturian  Masquerade Suite

Continuing a long-standing tradition, the Dearborn Symphony celebrates the future of classical music by featuring today's outstanding young musicians. The two winners of the 2014 Youth Artist Solo Competition will perform with the Dearborn Symphony. Complete program for this concert will be listed here in April 2014.

Dearborn's Ford Community & Performing Arts Center, Dearborn MI