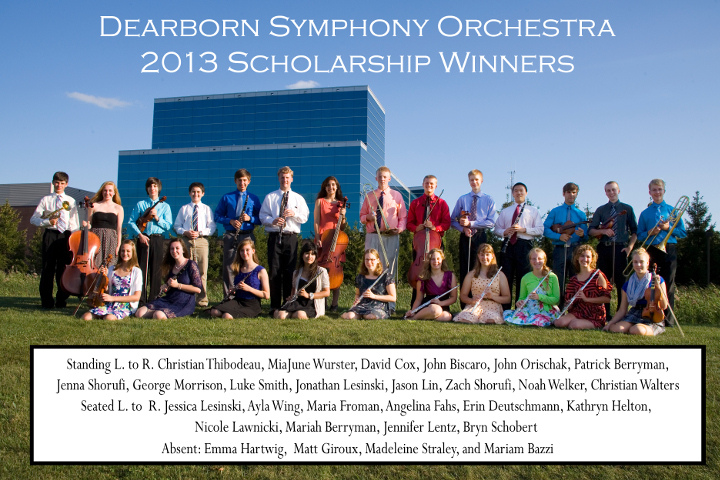 Young instrumentalists entering grades 8-12 from Dearborn and Dearborn Heights are fortunate, once again, to benefit from the generosity of area service clubs and individuals who place a high value on private music instruction. Outstanding musicians are receiving scholarship awards ranging from $250 to $500 for the 2013-14 school year.
Each year, The Dearborn Symphony offers scholarships to deserving students who will be entering grades 8-12 for the upcoming school year. Auditions are held in May for the following year. Scholarship applicants must be students in a public or private Dearborn or Dearborn Heights school or home-schooled. Performers on all standard orchestral instruments, with the exception of piano, are eligible to participate. The scholarship winners are honored and given their awards at a Dearborn Symphony concert in the fall. Several generous service clubs, corporations, private foundations and individuals have contributed funds to allow us to award several thousand dollars of awards each year.
Scholarship competition criteria include:
First ratings at the Michigan School Solo and Ensemble Festival
A worthy solo audition on a symphonic instrument
Recommendations from private music instructors
Being a student in a Dearborn or Dearborn Heights public, private or home school.
Several musicians of the Dearborn Symphony serve as judges of the competition.
Click here for scholarship application form and instructions.
Program Sponsors
The scholarship program is made possible by donations from:
American Association of University Women Dearborn Branch
Anne & Donovan Bakalyar
Marge & Bob Bryer
Virginia Blow
Exchange Club of Dearborn
Fairlane Sunrise Rotary Club
Friends of the Dearborn Symphony (WADOS)
Henry Ford Village
Kiwanis Club of Dearborn
Kiwanis Club of Dearborn Outer Drive
Janet & Bill Leslie
Frank and Mary Padzieski Trust Fund
Hugh Weller